ICTC to improve county roads | New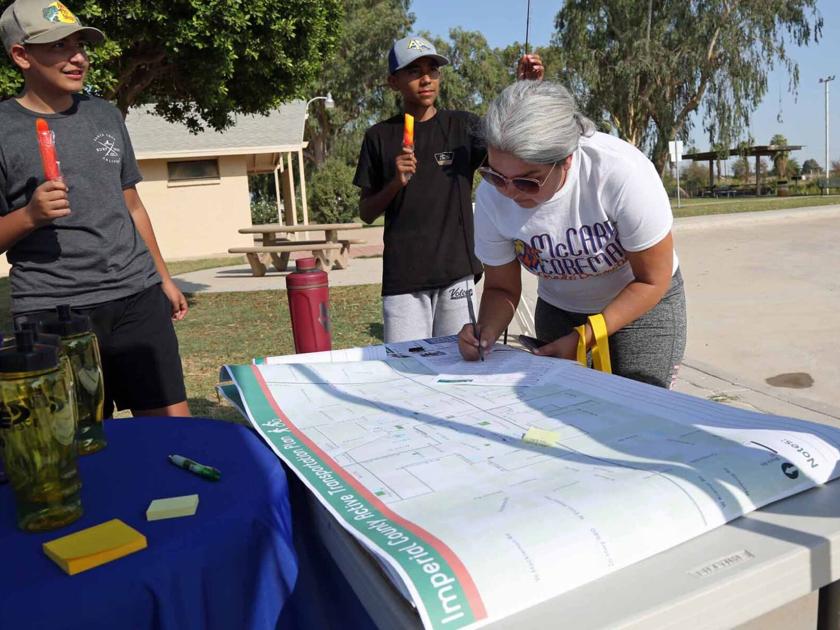 SEELEY – The Imperial County Transportation Commission (ICTC) has solicited feedback from people in three cities to help create a safe route plan that will encourage physical activity and better health.
Community outreach took place Friday morning at the Brawley Public Library and Friday afternoon at El Centro Aquatic Center. The following Saturday – July 17th – the outreach took place at Sunbeam Lake in Seeley.
"The goal is to create a regional active transportation plan (ATP) to improve access, mobility and safety of non-motorized modes of travel," said Virginia Mendoza, project manager at CTIC. The ATP will be used to seek further grants for the construction of identified areas, according to Mendoza.
There are currently gaps in sidewalks, bike paths and access to bus stops and other infrastructure, according to Mendoza. She added that the challenge was to bridge these distance gaps between cities.
She said the information gathered from communities will help identify areas of opportunity for walking, cycling, public transport and transportation access. The results of the investigation will be included in the full ATP report.
Funding for the study of $ 250,000 comes from a grant from the Southern California Association of Governments.
Further awareness days are planned for August and September this year. The timeline for the study's completion is February 2022, according to Mendoza.
At Sunbeam Lake, a team of three set up a display stand under a foldable canopy tent between the lake and the playground. There were a few fishermen and individuals walking and exercising along the lake.
Marlene Flores, ICTC regional transport planner, spoke to El Centro residents, Ninfa Vega, who took her son, Miguel Vega, 14, and his friend, Joseph Rosas, 13, to go fishing at Sunbeam Lake. They grabbed and released a couple of bass.
Flores posted the board with road maps of Imperial County towns, promotional material and survey questionnaires.
"I like to walk in our area to get some fresh air," said Vega, who occasionally uses her bike during the colder winter months. She mentioned cracks and uneven sidewalks in her neighborhood on the west side of El Centro.
But what worried her most was the lack of a crosswalk on Imperial Avenue between the El Centro Regional Medical Center and El Centro's medical offices. Individuals regularly cross the main street to access services on both sides of the avenue.
Flores asked Vega to complete a survey questionnaire and also to write her comments on any areas of concern on a road map of El Centro.
The survey is also available in French and Spanish on the website at https://ictcatp-ktuagis.hub.arcgis.com/.
"I run for conditioning," said Miguel Vega, a freshman entering Central Union High School this next school year. He was getting ready for the football season. "I like to run on flat sidewalks.
Like Miguel, Rosas also likes to run but for a different reason. "I am training to run in anticipation of football. According to Rosas, he and his father went to San Diego to train and improve their soccer skills.
"There are many benefits to walking and cycling," Mendoza said in a released statement. "We look forward to hearing from the community so that we can create a plan that meets the needs of residents of Imperial County. "