Kingdom Initiatives Hosts Opening Days at Scone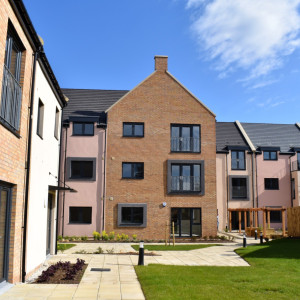 Kingdom Initiatives held the first in a series of open days at the recently completed Earlsgate development in Scone, Perthshire.
A total of 51 new homes, all mid-rental, make up the development on the site of the former Wheel Inn, just two minutes' walk from Scone High Street.
The Kingdom Co-Housing community for the over 55s in Earlsgate offers age-exclusive stylish living and brings a unique social dimension to residents. The development includes communal facilities to encourage group activities and social gatherings. Private homes clustered around shared spaces provide privacy when tenants need it as well as a sense of belonging and community with their neighbors when they want it.
Matthew Busher, Kingdom Housing Director, said: "We had really encouraging levels of interest on the first of our three open days at Earlsgate. 43 potential tenants received guided tours of the site, enjoyed the refreshments we served, and discussed with staff the development possibilities of this cohousing project. Our next open days will be April 28th and May 3rd and it's great to see that interest in the development seems to be taking off.
Bill Banks, Managing Director of Kingdom Group, added: "Co-housing is something we have been keen to explore at Kingdom and I am extremely pleased with the development at Earslgate. Cohabitation can bring back that sense of community that some people feel is missing where they live. Residents of Earlsgate, Scone will use some of their time to support their neighbors and help run the cohousing community by getting involved in aspects of community life.
"The range of services or activities will be agreed with residents living in Earlsgate. Cohabitation communities thrive on consensus decision-making. All residents are encouraged to participate in decision making and everyone has an equal voice.
The properties in Earlsgate, Scone have been bought off the shelf by the Kingdom Housing Association and will be let and managed by Kingdom Initiatives for an average rent.
The total cost of the project is £9.3m with funding of £4m provided by the Scottish Government and a contribution of £765,000 provided by Perth & Kinross Council.