WBC SILVER CHAMPIONSHIP KIM CLAVEL VS. MARIA VARGAS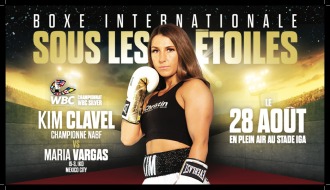 WBC SILVER CHAMPIONSHIP KIM CLAVEL VS. MARIA VARGAS
PhilBoxing.com
Thu 12 Aug 2021
"INTERNATIONAL BOXING UNDER THE STARS" SATURDAY, AUGUST 28, 2021 STADE IGA DE MONTRÉAL, presented by Mise-O-Jeu
MONTREAL (August 11, 2021) – For her first career main event on August 28, NABF champion and WBC No.1 contender Kim Clavel will now face Maria Soledad Vargas of Morelia, Mexico at IGA Stadium in Montreal. Vargas has provided proof that she is fully vaccinated against COVID-19, and she has already signed her contract and has been approved by the WBC as well as the RACJ.
Vargas (15-3-1, 1KO) certainly represents a superior opponent for Clavel in this 10-round duel for the prestigious WBC Silver title and concerns the coaches of Clavel, Danielle Bouchard and Stéphane Larouche. Vargas is undefeated in her last 8 fights, since 2017. In 2019, she faced WBC 105-pound champion Fabiana Bytygi (17-0-1, 5KO) on the road in the Czech Republic, and they fought for a draw in their world atomic weight championship fight.
The tough Mexican fighter has won her last 3 fights, the most recent of which was last February. She will arrive in Montreal on Friday August 19.
Also featured during this great comeback of international boxing in Montreal, the world contender Mikael Zewski (34-2-0, 23KO) against Dilan "El Tremendo" Loza (15-4-1, 9KO) of Mexicali, solid Sébastien Bouchard (18- 1-1, 8KO) against the experienced Cleotis Pendarvis (21-8-2, 9KO) of Los Angeles, the powerful Marie-Pier Houle (3-0-1, 1KO) against Jeanette Zacarias Zapata (2 -3-0, 0KO), from Mexico, and the talented heavyweight Alexis Barrière (2-0-0, 2KO) against Angel Barron (1-1-0, 1KO), as well as Diizon Belfon (2-0-0 , 2KO) and made his debut with Petar Gavrilovic of Granby.
Presented in association with Lee Baxter Promotions, the "Under the Stars" event welcomes another quality boxer as the excellent and undefeated Mazlum Akdeniz (13-0-0, 7KO), of Montreal, will face Ricardo Diaz Nunez (8 -5-1, 1KO) of Baja California, Mexico in an 8-round super lightweight bout. Akdeniz is known for consistently delivering spectacular fights with his uncompromising aggressive style. It will be his third fight in 2021 after winning his last two fights in Colombia earlier this year.
This will be the sixth time that GYM has presented a boxing event on the center court of the comfortable tennis stadium and it has been a resounding success each time. Ex-world champions Joachim Alcine, Jean Pascal, Adonis Stevenson, David Lemieux and Bermane Stiverne all left their mark between 2006 and 2010. On June 8, 2007, in the middle of an IBF welterweight eliminator between Quebecer Hermann Ngoudjo and the American Randall Bailey remains memorable, as a flood flooded the amphitheater. The fuses blew and there was total darkness for a few minutes during the ESPN2 live broadcast. This event ultimately received the 2007 ESPN Premier Boxing Event Award.
GYM has obtained authorization to sell 5,000 tickets for the occasion, available on ticketmaster.ca or at GYM (514) 383-0666. The prices are $ 35, $ ​​50, $ 90 and $ 150 in the stands. On the parterre, 38 tables for 6 people are at $ 2,500, and a hearty meal and wine will be served to the guests. Tickets go on sale today Thursday July 29 at noon.
"Under The Stars" will also be available on pay-per-view on Canal Indigo, Bell TV, Shaw TV and on Fite.TV for $ 49.99.
---
Recent articles from PhilBoxing.com internally:
THOR BJORNSSON AND DEVON LARRATT WEIGH FOR THE SHOWDOWN
, Fri 17 Sep 2021
CONOR BENN SIGNS NEW MULTI-FIGHT AGREEMENT WITH MATCHROOM
, Fri 17 Sep 2021
Manny Pacquiao still highly rated by the ring, nine other Pinoy fighters make the ratings
By Teodoro Medina Reynoso,, Fri, 17 Sep 2021
US Open Pool Championship: Four Pinoys in Final 16
, Fri 17 Sep 2021
Fight for Glory 2021: Samvel Babayan confronts Giang Hoang, Khyzer Hayat meets Kim Falk
, Fri 17 Sep 2021
IIEE Southern Luzon Region (SLR) wins 20th ECVRC chess tournament
, Fri 17 Sep 2021
MIKEY GARCIA RETURNS AGAINST SANDOR MARTIN ON OCTOBER 16
, Fri 17 Sep 2021
CHILDREN'S WORDS EXCHANGED AT THOR CONTRE. LARRATT PRESS CONFERENCE
, Fri 17 Sep 2021
Undefeated super featherweight prospect Daniel Bailey visits Boston for the first time
, Fri 17 Sep 2021
George Dixon: Professor of Soft Bruising Science (part 1 of 7, Undiluted Champions Series)
By Emmanuel Rivera, RRT,, Thu, Sep 16, 2021
SPORT SHORTS 219: MANNY PACQUIAO BELIEVES THAT YOUTUBERS FIGHTING PRO BOXERS IS NOT GOOD FOR BOXING
By Maloney L. Samaco,, Thu, Sep 16, 2021
Jay Snoddon and James Braniff win WKN titles at Fight Club made-in Prokick in Belfast
, Thu 16 Sep 2021
OFFICIAL CALIFORNIA RJJ BOXING WEIGHTS
, Thu 16 Sep 2021
STRICKLAND, PAGULAYAN AND FISHER AMONG THE VICTIMS ON DAY 3
, Thu 16 Sep 2021
OMAR JUAREZ TRAINING CAMP QUOTES
, Thu 16 Sep 2021
Promoter Derek Gionta Building Pittsburgh Boxing
, Thu 16 Sep 2021
TRILLER FIGHT CLUB PRESENTS THE UNDISPUTED LIGHT CHAMPIONSHIP IN MECCA !! TEOFIMO LOPEZ AGAINST. GEORGE KAMBOSOS JR. MONDAY, OCTOBER 4, 2021
, Thu 16 Sep 2021
Miguel "El Explosivo" Madueño wants everyone at Lightweight after Fredrickson knockout
, Thu 16 Sep 2021
Lou Savarese & Dr. William Lathan Class of 2020 Members Inducted into New York State Boxing HOF
, Thu 16 Sep 2021
SPORTS SHORTS 218: JONAS SULTAN CONFRONDS KO SPECIALIST CARLOS CARABALLO FROM PUERTO RICO
By Maloney L. Samaco,, Wed, Sep 15, 2021
Future bantamweight champion Prince Octopus Dzanie looking for bigger fights in the United States after demolishing Nigerian opponent Sherif Kareem in brutal five rounds
, Wed 15 Sep 2021
CALUM FRENCH SIGNS WITH MATCHROOM BOXING
, Wed 15 Sep 2021
Day 2 of the US Open Pool Championship sees the hopes and dreams of decided players
, Wed 15 Sep 2021
Canelo Alvarez heading for another Fighter of the Year award in 2021?
By Teodoro Medina Reynoso,, Wed, Sep 15, 2021
MEXICAN SUPERSTAR CANELO ÁLVAREZ AND WORLD CHAMPION INBATTU CALEB PLANT MEET FOR THE UNDISPUTED SUPER MEDIUM WEIGHT CHAMPIONSHIP SATURDAY 6 NOVEMBER LIVE ON PAY-PER-VIEW AT MGM GRAND GARDEN ARENA
, Wed 15 Sep 2021